Teatro Bonoris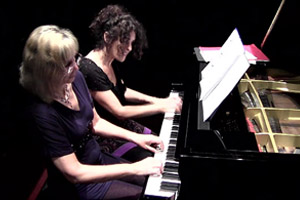 Festival Puccini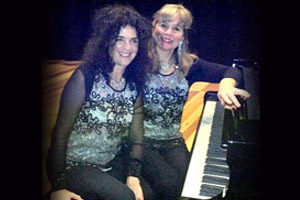 Festival Puccini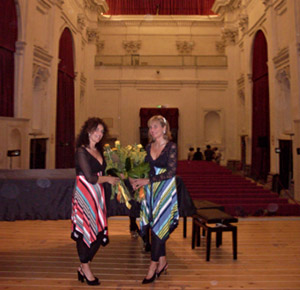 Lucca - Auditorium Chiesa del Suffragio

Laura Helman, Argentinean, and Barbara Salani, Venezuelan, began their musical studies in their countries of origin: Laura with Maria Teresa Criscuolo in the Conservatorio Nacional de Musica C.L.Buchardo in Buenos Aires, and Barbara in the Escuela de Musica J.M.Olivares in Caracas, where she acquired her Diploma with Gerty Haas.

Continuing their studies: Laura in Italy, where she graduated under the guidance of Rossana Bottai at the Institute Boccherini of Lucca; Barbara in the USA, where she obtained a Bachelor of Music with Susan Starr in the Philadelphia College of Performing Arts.

After master classes and improvement courses in North America and Europe with renowned pianists such as Rossana Bottai, Susan Starr, Bruno Canino, Michele Campanella, Alexander Lonquich, and the duo Hector Moreno-Norberto Capelli, Laura Helman and Barbara Salani undertook a solid experience as concert soloists, in chamber music and orchestras (Orquesta Filarmonica de Caracas, La Orquesta Sinfonica de Maracaibo, the New England Youth Orchestra, and recently with the Symphony of the Americas).

They performed as soloists or Duo in Italy, Argentina, Venezuela, United States, Greece, Spain, and France. Their artistic baggage has also been enriched by the participation in contests, and radio and television broadcasts.

The Duo, born in 1990, at the beginning, was dedicated to the music of the great composers of the Classical repertoire.

Then, thanks to careful research and appreciation of music manuscripts and unpublished music, the Duo specialized in Music from the American Continent.

In this original repertoire, the piano virtuosity combined with the soul of their Latin American roots produces compelling results: with the perfect synchronism, executions and refined styles together with full vitality and feeling, they have conquered in recent years all audiences and critics.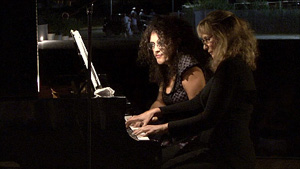 Pisa - Anfiteatro